Welcome
WHAT
So what do we do together?  Spiritual coaching is kind of like a combination of confidant, consultant, sherpa guide and expert motivator. It's like having a personal trainer for your life, your career and your soul.

WHY
Sometimes you're looking just looking for a new perspective or a safe place to constructively vent. And other times it could be a crisis, major life transition, unusual hardship or just feeling uninspired and stuck. It's one of these places where we generally meet.

HOW
There is no agenda other than your happiness; whatever that means to you, and works for your life. We're not trying to fix you  – you're not broken.  Just working to make life a little less difficult, a little more clear and a lot more fun!

d
"Don't be afraid to start over; it's a chance to build something better this time."  
"She is a wonderful & highly skilled coach who is a pleasure to work with. Hunter has helped me identify my limitations with humor & compassion. She also highlights my strengths" – Dr. Natalie Feinblatt read more….
Inspiration, Wisdom & Useful Tips
BLOG
 25 Life Changing Tips
How many things do you wish you had learned sooner? 25 Tips to make your life a little easier  CONTINUE READING
20 Questions About Last Year
Revive fond memories, stimulate self reflection, prompt thoughtful change and stir your soul.
CONTINUE READING
Moving Past Trauma
I've never met anyone who got through life unscathed. But here's some help to move past traumas. CONTINUE READING
VIDEOS
Changing Course When Plans Fall Apart
1% Challenge
A Non-Negotiable Desire For Freedom
INSPIRATION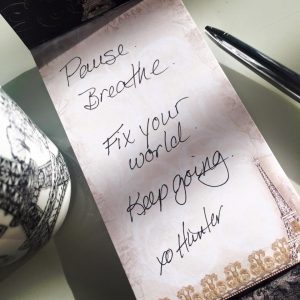 Sometimes, we just need to catch our breath; to hit the Pause button, reassess what's going on in our world and then move forward.
B R E A T H E
Aspiration (drawing breath) = Inspiration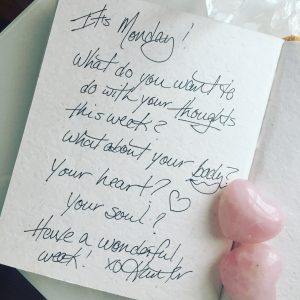 What would be DIFFERENT if you were to start this week mindfully?
Live this week consciously?
Move through the week intentionally?
Even if it's not Monday, start now.
Have a beautiful week! xo

Maybe you can do something about it, maybe you can't. But how much time, energy and mental space do you want it to take up? How much joy does it get to consume? How much of your happiness will you let it bleed away?
Sometimes, it's okay, and maybe even better, to just let it go.
Live Your Passion. Center Your Soul. Have More Fun. Be Yourself. Create Like Crazy. Get it Done. Improve Everything. Make an Impact. Get Unstuck. Live Your Dreams. Take Bigger Actions. Secure Big Wins. Love Out Loud. Pursue Your Purpose. Be Your Bliss. Make it Happen.
Rock Your Life.